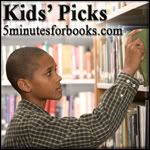 The school year is winding down here, but we're also at the end of soccer season, which overlaps with the beginning of baseball season. 2 kids + 2 concurrent sports = exhausted kids, but we still manage to get in some reading time before bed. My 8 year old still has to log 100 minutes a week, and the 5 year old dissolves into tears if he doesn't get at least one book at bedtime.
I love sharing what my kids have been reading over at my own blog, but more than that I'm always looking for new things for them, especially the third grader. In fact I look forward to Kids' Picks so much that Jennifer asked me to take over getting the post up. So please join us and share what your kids have been devouring, either with their own eyes or through their ears as they listen to their favorite read-alouds.
Please link directly to your blog post, and include your children's ages for ease in visiting.
Don't miss a thing: Check out our current giveaways. Subscribe to our feed or video reviews on YouTube. Follow us @5M4B on Twitter or on Facebook.