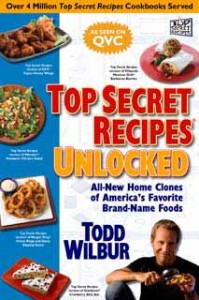 I had to. I simply HAD to know what recipes were in Top Secret Recipes Unlocked
: All New Home Clones of America's Favorite Brand-Name Foods because it mentioned that it had some top secret Chick fil A recipes and I have a known weakness for Chick fil A. (I also don't have one within about a 1,000 miles of where I live so I'm somewhat up a creek!)
I honestly think that the quote from USA today, within the covers of this book, best describes it:
"The mission: Decode the secret recipes for America's favorite junk foods. Equipment: Standard kitchen appliances. Goal: Leak the recipes to a ravenous public."
That's pretty much it. Todd Wilbur gets his kicks in recreating recipes from people's favorite restaurants so that they can learn to make the same items at home – and hopefully make them taste just as good or even better! You almost feel naughty by perusing this book – like you are holding stolen items. Perhaps if he had shared the recipe for Chick fil A's Chicken Sandwich I would have felt more guilty, but as it is, the only two Chick fil A recipes in here are for their Honey Roasted BBQ sauce and their carrot raisin salad. Frankly, I didn't care about the carrot salad. I wanted the goodness of the fried (or is it?) sandwich.
The plus side of this book is that Wilbur went all out for some of my favorite Starbucks creations so I won't be complaining for too long! He even managed their Classic Coffee Cake and the Cranberry Bliss Bar.
And now you know my two restaurant weaknesses.
Wilbur covers a lot of ground in this recipe book, tasting and sampling his way from McDonalds to Panera Bread. He has unlocked the secrets of a good many recipes, making it simpler, easier and more economical for you to cheat your way along in the comfort of your own kitchen, delighting family and friend alike.
Top Secret Recipes Unlocked
is rather a fun recipe book to have on hand. You just have to make sure you are a fan of the restaurants included or else it isn't going to mean as much to you. As Starbucks means a great deal to me, and in spite of the fact that I didn't get my chicken sandwich recipe, I'm still ok with it's offerings.
Carrie comes by her book obsession honestly, having descended from a long line of bibliophiles. She blogs about books regularly at Reading to Know and Reading My Library.