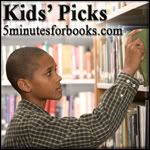 Oh dear me, it's happened again, but never fear, we'll be here for the next couple of days (well forever, actually) encouraging you to link up to this carnival. Tell us what your kids have read this month. It's such a help to us parents as we seek to keep our children supplied with good books, no matter their ages.
Please link directly to your post, or leave us a comment and tell us something that enraptured your child this month.
Don't miss a thing: Check out our current giveaways. Subscribe to our feed or video reviews on YouTube. Follow us @5M4B on Twitter or on Facebook.