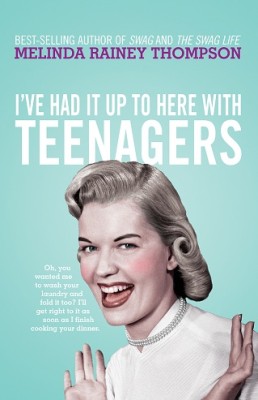 I can't even describe what a gift reading this book was for me. As the mom of a teenager, I know that I get my best encouragement when I can just be honest with them and admit my struggles and provide a listening ear. Because let's face it, even though we sometimes want to cry (or yell or pull our hair out), sometimes you just have to laugh.
Melinda Rainey Thompson gave me that in her book I've Had it Up to Here with Teenagers. The book made me think about my parenting AND laugh, and that's a wonderful combination.
I wanted to share a few of my favorite excerpts here:
"When my daughter had the gall to say to me out loud one day, 'What do you know about it?' in the middle of a heated discussion about boys and girls and the birds adn the bees, my answer flew out of my mouth without a second's hesitation: 'I know plenty, missy!' Then I stalked out of the room in a huff, just like a teenage girl (which I used to be contrary to popular belief)" (page 4).
"'You should be nice to geeks. One day you'll be glad you were.' 'Why do you always start these weird conversations, Mom? I don't care about geeks! I just want to go to So-and-so's house, and you turn it into a parenting moment. Can I go now?'" (page 31)
"My kids will tell you I'm a mean mama. I'm not ashamed of that reputation anymore. But my kids also claim I enjoy being a mean mama. Now that's just not true. It hurts my feelings that they think so. I'd much rather be one of those sweet mamas who speaks in a soft voice and gets her children to behave appropriately by inspiring them to do the right thing with little songs and heart-shaped cookies. That mama never screams until she is hoarse (did that today)" (page 40).
"The only question became, 'Do I look beautiful in this dress, Mommy, or that one?' I wish girls kept the confidence they have as toddlers all the way through middle school and high school. That would sure come in handy when mean girls tear them apart" (page 111).
"No sleeping with your cell phone. You don't need to be available twenty-four hours a day. You are not the President of the United States" (page 148)
You can read my full review of I've Had it Up to Here with Teenagers by Melinda Rainey Thompson over at 5 Minutes for Mom.
Leave a comment there to enter to win your own copy. You can also leave a comment here for an extra entry (but you have to leave a comment there to be eligible). Giveaway is closed.
Don't miss a thing: Check out our current giveaways. Subscribe to our feed or video reviews on YouTube. Follow us @5M4B on Twitter or on Facebook.