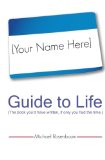 Self-help books fill shelves and shelves at bookstores, and there's certainly no shortage of options on a wide array of topics. A sassy little book of advice, guidance and common sense reminders has joined their ranks in Michael Rosenbaum's Your Name Here Guide to Life: The book you'd have written, if only you had the time.
Written in a humorous tone with a feeling of "hey, we're buddies, so we can talk frankly" in the author's voice, this short book makes for a quick and fun read, but the ideas presented do indeed get you thinking. From guidance on remembering what defines "success" to advice on the dangers of passing judgment, these pages are full of the kinds of reminders that we can all benefit from in our relationships and the everyday decisions and experiences that are common to the human experience. Author Michael Rosenbaum, who also contributes to our sister site, 5 Minutes for Parenting, prides himself on being a good listener, which certainly shows through the collection of wise tidbits he offers throughout this guide.
Designed as a book written just for YOU, each short chapter also provides a small section to fill in with your own thoughts and pearls of wisdom. With topics that we all can relate to, this book is certain to leave readers evaluating aspects of their own mindsets and behaviors. Easily read in one or two sittings, Your Name Here Guide to Life is ideal for gift-giving, whether it be to a recent graduate, friend or family member.
Dawn counts reading as one of the greatest joys of her life, along with loving family and good food. Blogging at my thoughts exactly probably makes the top ten, as well.