Olivia is a wonderfully imaginative over-the-top sort of pig. Do you know any young children with a penchant for drama? If so, they are sure to enjoy Olivia Acts Out.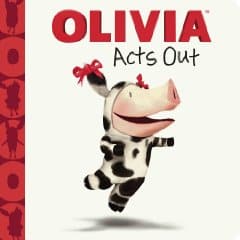 This book is an adaptation by Jodie Shepherd from the series that currently plays on Nick Jr. (reviewed here by guest contributor Alicia in a Books on Screen column), which is based on the books by Ian Falconer.
The fact that it came from an episode of the show made it more appealing to my son Kyle (5). This would be a big draw for kids who are more drawn to TV and toys than books.
In Olivia Acts Out, Olivia is assigned the role of "cow number two" in the school play. As always, she thinks that she deserves more, and her imagination provides just what she is looking for.
This is one of those books that you have to see to fully appreciate. It's a nice large size — 10 x 10 with a nice thick hard cover. The red part on the spine has a fuzzy texture. The pages are extra-thick — somewhere between a board book and a regular pages — making it easy for little fingers to turn and hard for them to destruct. The thickness of the pages also allows for a little bit of dimension to the characters on the page.
You still have through this Sunday 1/3 to enter to win this book along with more than 10 other books for kids of all ages from Simon and Schuster. Enter at 5 Minutes for Mom now.
So click over there now to enter to win the whole set of books, including Olivia Acts Out. I've closed comments here to avoid confusion.
The winners of Liberty Porter: First Daughter are

#23 Djp
#21 Wendy
#26 Vicki Wurgler
#8 Rita
#7 Carolyn
Jennifer Donovan often thinks that she deserves more. She blogs at Snapshot where she is indeed the star of her own life.