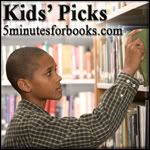 Well, it's Valentine's Day, and I'm not showing the love. I still have our old Kids' Picks schedule in my mind, so since we moved it to the 2nd Tuesday, I sometimes forget.
This is your chance to share what your kids are reading. It's also a great time to get feedback from others. Oftentimes, someone will suggest a book similar to something that I've posted that my kids like. I love that!
See, it's all about the love, even if it's a forgetful love.
Thanks to Nancy for reminding me! I hope that if you prepared a post, you'll link up, and if not, perhaps you'll link up tomorrow (I think that's what I'll be doing!). I love sharing what my kids are reading, and my son has been devouring a new series. I also like seeing what your kids are reading, so if you had forgotten, please consider writing up a post tomorrow.
Please link directly to your blog post, and include your children's ages for ease in visiting.
Don't miss a thing: Check out our current giveaways. Subscribe to our feed or video reviews on YouTube. Follow us @5M4B on Twitter or on Facebook.