Joy Berry is the bestselling author of Joy Berry Classics for children with more than 250 titles and 85 million copies of her books sold. These books have been available for over 30 years, but they have been redesigned and now come with CDs. They are available at Joy Berry Books. Divided into six series, Joy Berry Classics address childhood issues for all ages. With a five-year-old and a seven-year-old in my house, I was happy to review books from the Let's Talk About series and the Help Me Be Good series.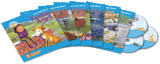 The Let's Talk About Series is designed for preschoolers and kindergartners, and the books focus on handling emotions in a positive way. Topics include feeling angry, feeling afraid, being patient, being good, being helpful and needing attention. The Help Me Be Good books are written for grades K-2, and they focus on replacing misbehavior with good behavior. Topics include being rude, being messy, fighting, tattling, and whining (and many others).
As parents, we know that these are issues children deal with daily. What I like about the Joy Berry classics is that they are very straightforward and easy to understand. Additionally, they are great conversation starters. When reading them with my children, these books started discussions about issues my children were facing at home and at school, and I appreciated that we could snuggle up on the couch and talk about how they would handle similar situations. My children enjoyed the CDs, which include the story and a song, but I preferred reading these stories with them so we could talk about them together.
I wish I could keep my kids from all misbehavior and teach them how to handle their emotions appropriately all the time. I know that's not going to happen, but I appreciate resources like the Joy Berry Classics that can help me steer them in the right direction!
In addition, I (Carrie), am at the beginning stages of life with my children. Joy Berry also has books for infants. Teach Me About Special Times
includes six books dealing with six basic things that children deal with: mealtime (generally loved by all), bath time (reassuring little ones that you "can never go down, you can never go down, you can never go down the drain!"), getting dressed (who needs to do that for themselves when you have a mommy!?), bedtime (avoidance), potty training (dreaded by all), illness (icky germs!).
These six topics are basic in a young toddler's life. Pretty much all that they seem to think about is playing, eating, sleeping, playing, eating some more, playing and avoiding nap time like the plague that it is. This book hits on all subjects, encouraging them to eat good food (to help with all of that playing!) and how bath time can be both safe and fun.
The illustrations in this book remind me of Highlights magazine. There is a good usage of pastels to make the what might be possibly be the most frightening situation for your child feel more calm and peaceful. (Or, perhaps, as in the potty training book, make the parent feel more calm and peaceful!). If you have a little one who is learning about how to clean behind their ears and the need for rest (hahaha!) then you might want to take a peek at these books.
Do you want to start off the new year teaching your children good habits?

You can get the entire Help Me Be Good Set from Joy Berry for $99 ($30 off). Just use coupon code HMBG1233.

The Teach Me About Series is currently $25 ($10 off) if you use coupon code TMA12343.

These are affiliate codes, so we get a commission if you use this link and code. These offers expire January 31.
Lauren is a wife, a mother of two, and an avid reader. She blogs at Baseballs and Bows. Lauren thanks Joy Berry Books for providing the review copies of these books.
Carrie comes by her book obsession honestly, having descended from a long line of bibliophiles. She blogs about books regularly at Reading to Know and Reading My Library and finds herself occasionally living for the next nap time (if you didn't catch that hint of desperation in her voice).