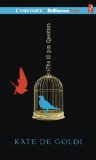 The 10 p.m. Question by Kate De Goldi features 12-year-old Frankie Parsons. Each night he lies awake in bed, worrying. By 10 p.m., he's usually searched out his mom to ply her for answers or to simply receive some comfort.
But other then having an overactive worrying imagination, he's a perfectly normal kid. He and his best friend Gigs have a made-up language and made-up games that, along with time, has cemented their friendship. He's waiting for the switch to turn on that will make girls interesting and attractive, and that might be happening when free-spirit Sydney moves to his class and they are partnered up on a project.
No one really talks about Ma — not his siblings, not Uncle George (who is really his father with just an odd name that has stuck), but Frankie worries about her too. He worries why she doesn't leave the house, and begins to wonder if he might end up like her. But Sydney asks a lot of questions. At first he does everything he can to avoid them, but in the end letting himself get to know her and be known by her, helps him to figure himself out a little bit more.
I can't put my finger on why exactly, but this book feels firmly like a book for middle schoolers and above. It doesn't have a lot of swearing or any activities that would worry the parent of a child younger than 13, but there are some mature themes mentioned. I love that there is a true coning-of-age YA book that should appeal to ages 13 and up out there that isn't full of explicit language and sex.
It's also one sure to appeal to adults who are fans of the coming-of-age tale (like me!). I like that it has a boy protagonist, but because the emotional quotient is very high it will also appeal to girls (and of course he has a girl best friend/perhaps more than a friend).
And if you like quirky — this one has just enough to keep you smiling, though not enough to annoy you if you don't like quirky (although if that's your opinion, I strongly feel you are missing out). A father called Uncle George? A cat named the Fat Controller? A made-up language? It's all there.
AUDIOBOOK NOTES: The accented reader Stig Wemyss added to that element of place (New Zealand) that resonated loudly with this American listener.
Jennifer Donovan realized that she was addicted to audiobooks when she knew she had to replace her lost/stolen ipod within weeks — and not so she could get her groove on. She blogs about other likes at Snapshot.