During the Thanksgiving holidays, a friend pointed out that we, as a nation, spend a day giving thanks for our blessings, and at the stroke of midnight, we begin the most materialistic season of the year. I admit that I like buying Christmas presents, and I don't intend to stop any time soon. But, I do agree that our focus can be too much on material goods, and I can only imagine how our extravagance must appear to those in need around the world.
In this season of giving, we should take the time to remember those in need, and thanks to the World Vision Catalog, we can give gifts and help others at the same time. Through this catalog, you can make a donation to dozens of different projects around the world to help children and families in need. Your donation can be made in honor of a friend or loved one, and there are also items that make great gifts.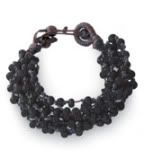 To raise awareness for this important cause, World Vision is offering one Thai necklace, Thai bracelet, or Ugandan bracelet to one of our readers (the selection will be made by World Vision based on availability).
A sampling of inexpensive gift items in the World Vision catalog include:
$16 will buy two soccer or basketballs for a child
$17 will buy improved hybrid or drought-resistant seeds for a nourishing harvest and income
$18 will buy enough bed nets to protect an entire family from malaria
$25 will provide $350 worth of school supplies in the U.S.
$25 buys two chickens to provide a lasting source of nutrition and income for a family

Please leave a comment if you are interested in winning one of these bracelets (U.S. residents only), and be sure to consider the World Vision catalog as you are doing your holiday shopping.
Comments for this giveaway are closed.
Be sure you've entered all the giveaways in our 2009 Gift Guide and Giveaway event.
Lauren is a wife, a mother of two, and an avid reader. She blogs at Baseballs and Bows.