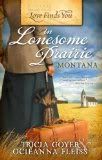 The Love Finds You series by Summerside Press is a collection of novels that feature real towns with uncommon names. Each story draws on the history and unique features of these American gems, allowing the reader to lose herself in a story and learn more about our wonderful nation at the same time. It's no secret that I am a fan of historical fiction, and I love this concept!
Although there are already many books in this series (click HERE to see them), Love Finds You in Lonesome Prairie, Montana
is the first I have read. Written by Tricia Goyer and Ocieanna Fliess, this book is the story of Julie Cavanaugh, a young woman travelling west to deliver orphans to new families. When unforeseen (and humorous) circumstances force her to stay in Lonesome Prairie, Montana, Julie learns what it's like to be part of a family and how it feels to fall in love. But when her heart is broken, Julie must decide whether to return to New York City or stay in the western prairie she has grown to love.
I enjoyed this book, and I recommend it to all of you fans of historical fiction. I always appreciate the chance to learn from the historical context of a story while losing myself in the lives of the characters. The idea that God has a plan for our lives (even though his plan is often different from our plan) was a theme throughout the story, and I welcomed the poignant reminder. Although Love Finds You in Lonesome Prairie, Montana
is the first of the Love Finds You books that I have read, I look forward to reading more of the books in this series.
Tricia Goyer, one of the authors of this book, is hosting a contest in honor of this book's release. Be sure to visit her site to enter to win a fantastic Montana gift basket worth over $100.
Lauren is a wife, a mother of two, and an avid reader. She blogs at Baseballs and Bows. Lauren thanks Litfuse Publishing for providing the review copy of this book.