If there's one thing Southerners do right, it's iced tea. Sweet tea. With enough sugar to make you gain weight just looking at it. I could drink a big ole' pitcher glass every day (to be honest, I do most days!). As much as I adore sweet tea, it doesn't even compare to the deliciousness that is a cup of hot tea with milk. I'm thinking I might just have my status as a Southerner revoked over that proclamation, but I'm willing to take the risk.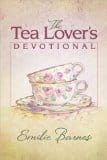 There's something comforting about hot tea. It's cozy and relaxing. Something to savor. England has built its days around the tradition of the afternoon tea. It's a time to take a break and enjoy good company. Personally, I'm in favor of America doing the same. I'm not holding my breath, though. In the meantime, Emilie Barnes has written some wonderful books for those who adore tea as much as I do.
The first, The Tea Lover's Devotional is filled with short devotions and guided prayers that are perfect for an afternoon break with God. Recipes and tea time ideas are woven into the book. Small enough to tuck into your purse, it's great way to take a few minutes out of a busy day and feed your soul.

In An Invitation to Tea: Special Celebrations with Treasured Friends, Barnes shares quotes, recipes and ideas for incorporating tea into your life.
Both books are fantastic gift ideas for anyone who loves tea…be it a special friend, aunt, or co-worker.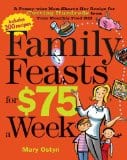 Another way that we can show hospitality — to those outside or within our family — is to prepare a meal for them. Jennifer reviewed Mary Ostyn's Family Feasts for $75 a Week on 5 Minutes for Mom (click through the link to read her full review) and enthusiastically recommends it for anyone who would appreciate some family-friendly recipes as well as tips for saving money on their food bill. This book is especially good for someone who might be new to the kitchen or who is trying to make an effort to prepare more meals from scratch.
Melissa has been captivated by books for as long as she can remember. She resides in Virginia and blogs at Breath of Life.

For our gift guide and giveaway, one winner (U.S. only) will receive a copy of Family Feasts for $75 a Week, An Invitation to Tea: Special Celebrations with Treasured Friends, and The Tea Lover's Devotional.

Leave a comment if you'd like to win these books for yourself or pass them along to someone looking to serve up some comfort from the kitchen.
This giveaway is now closed.
Entries will be closed on December 8, and we will announce the winners on December 9. Please watch your email and check the site for your name, so that we can collect your shipping information and you can get your gift by Christmas.
Be sure you've entered all the giveaways in our 2009 Gift Guide and Giveaway event.