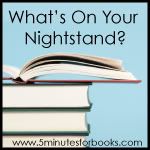 This is the "slapped up in a hurry" version.
Has the tryptophan from the turkey already kicked in? If you don't know the drill, please read our What's on Your Nightstand page.
Theoretically this should have gone up at midnight (on odd-numbered months), and it goes up at 7:00am on even-numbered months). I think that this is the first time it hasn't been here, so I hope that you old faithfuls as well as newcomers will grant me some holiday grace!
Check out all of our regular Tuesday happenings at our Join In page. The first Tuesday is usually our bookclub, but we're on holiday hiatus, but next week we are going to announce our plans for the Classics Bookclub, so please check in!

Also, the second Tuesday is Children's Classics, and on December 8, our theme is "Books you love to give" so come on over and possibly find a perfect fit for that person on your gift list (I may even share an adult book that I LOVE to give to Mommies).
Check out our current giveaways. Subscribe to our feed. Follow us @5M4B on Twitter.
Now link up: