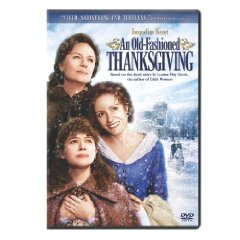 For the Classics Bookclub this past month we read any book by Louisa May Alcott of our choosing. I had found a copy of her short story, An Old Fashioned Thanksgiving (click on the title to read my review) and enjoyed reading this charming tale. Part of my inspiration for reading the short story, was so that I could immediately watch the movie in good conscious, having duly educated myself as to the book that the movie was "based on."
Now, when they say "based on" they mean that the family in the movie was named Bassett, just like in the book. And they cast Jacqueline Bisset as one of the lead roles and her name is kind of spelled similarly to the family name. The main girl in the story is named Tilly in both cases. Oh, and there is a Thanksgiving dinner! That, my friends, is pretty much where the similarities end.
In the book, the Bassett family is comprised of a mother and father and a set of healthy boys and girls. In the movie, the father has been dead for awhile and the widow and her three children (2 girls, 1 boy) are struggling to make ends meet. The book is a funny family story. The movie is a romantic drama. On it's own, the movie is a pretty good chick flick with Tilly being much like Jo of Little Women. Tilly is the frustrated budding authoress who falls in love with a Teddy and, well, there are just too many similarities to Little Women to count. If you like Little Women and don't mind that same story formula being reused, you will enjoy this movie. It is true that it is a very well done movie and polite entertainment. It's just absolutely nothing like the book so you can't watch it and fool yourself into thinking that you know what the book is about. I won't let you do that. I can't let you do that.
I very much enjoyed reading An Old Fashioned Thanksgiving as a delightful short holiday story. It's a great one to read aloud to kids ages 5 and up, I would think. It's quaint, classic and full of good holiday cheer. The movie is for girls only who love romantic tales and stories of angst and woe between mothers and daughters. And some kissing. Both are ok in their place but really cannot be compared to one another.
Melissa recently watched/reviewed and compared Alcott's The Inheritance and she also noted that the storyline in the book and the movie completely differ. Since both The Inheritance and An Old Fashioned Thanksgiving were short and apparently not exciting enough to base a movie on in their entirety, it raises the question of why they bothered to share the same title with the books at all. In my case you might have well called the movie, "The Little Woman, Tilly" or "Tilly: Inspired by Louisa May Alcott's Writings" or something. It's not bad…..I just don't see the need to share the title!
Carrie comes by her book obsession honestly, having descended from a long line of bibliophiles. She blogs about books regularly at Reading to Know and Reading My Library.