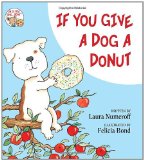 If You Give a Dog a Donut is the latest from the fabulous duo Laura Numeroff and Felicia Bond.
How did I miss this? They are true modern classics. I shared them with my daughter, now 13, and a couple of years ago, my now 7-year-old son ran right to the NUM section of the picture books in the library to select something each week.
I hadn't heard anything about this new "If You" character. You will hate me even more as a book blogger if I admit this to you. The truth is that the unsolicited envelope got stuck in a pile of books in my closet. So as I was sorting and organizing, it was like a little surprise to find this book that published in early October inside that unopened envelope.
I love this picture-book franchise. The animals get themselves into silly situations as the kids just stand by and facilitate their whims, and the logic makes kids and adults chuckle. But for me it's the realistic yet artistic illustrations that make these books stand out. Though If You Give a Dog a Donut lacks a little bit of originality with the situations that the boy and the dog experience, I love this little boy and the exuberance of the dog. The enthusiasm almost transfers to the reader.
Dog lovers, donut lovers, and apple-juice drinkers of all ages should definitely check out this latest from this talented author/illustrator team.

Jennifer Donovan loves dogs and donuts. She blogs at Snapshot about other loves.