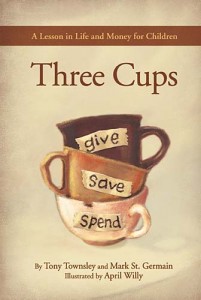 We've had a lot of discussions about money in our household lately. I've been sort of consistent about giving an allowance lately to my kids, and on top of that my 13-year-old daughter has recently started earning some of her own money babysitting and pet sitting.
The way we handle and think about money is something that is critical, but I think we aren't often intentional about teaching our kids to handle it responsibly.
Three Cups is a picture book that introduces one child to the "adventure" that comes with saving and spending money. On a boy's 5th birthday, his parents give him 3 cups and an envelope of money with the promise of a weekly allowance to follow. He learns about spending and saving and giving by allocating money to each cup.
I think that picture books can help reinforce what we are already teaching. They can also help us address topics we might be putting off, like money matters.
Three Cups is published by Thomas Nelson, a Christian publishing house, but church is not even mentioned (The "giving" that the boy did was to the canned food drive at his school), so I think that this book is 100% appropriate for anyone who wants to encourage their kids to experience the adventure of saving, spending, and giving.
Perhaps you can think of a child in your life who might like to start the adventure of
Three Cups. This book and three cups (or other special containers) might make a great holiday gift!

The publisher has offered a giveaway copy to one of you (U.S. and Canadian shipping addresses are eligible!). Just leave a comment if you'd like to win. We'll announce the winner in our Wednesday giveaway post on December 7.The giveaway has closed.

Jennifer Donovan is always thankful for her husband's good financial sense and practice. She hopes that they can instill that in their children. She blogs at Snapshot.