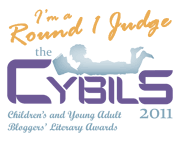 Another Friday, another trio of Cybils Award nominated picture books for you, care of the gigantic stack on my dining room floor right now. (Thank goodness for my local public library!) This week, I've chosen to highlight books from three authors whose names you just may recognize from their previous works. These are releases from the last few months, and I'm happy to report that they continue to release books I want to put on my kids' bookshelves.
I've been a fan of Dan Yaccarino's illustrations since my oldest was a toddler a decade ago and we enjoyed repeated readings of Good Night, Mr. Night. I'm pretty thrilled to be sharing his latest book with my younger two now. All the Way to America: The Story of a Big Italian Family and a Little Shovel is Yaccarino's own family's story- six generations of a loving family and the one little artifact that has stayed in the family over all those years and with many different functions. As always, I adore the colorful illustrations, and the heart of this family is impossible to ignore. I see this as a story all families will enjoy sharing.
I'm happy to see that the ever-changing Lane Smith has gone down a somewhat sentimental path with his latest, Grandpa Green. The inter-generational storyline has a young boy telling the story of his great-grandfather's life, which is represented all in garden topiaries, Grandpa's biggest passion. Want to be wowed by the gorgeousness of a book? The images of Grandpa's life experiences are truly awesome– the spots of bright color among the mostly green shades really pop, and every page is filled with delicate details. When you read this one with your child, be sure to linger on each page even after the words are all read.
Maybe you've heard of a little-known children's book author/illustrator by the name of Eric Carle? No? Well, welcome to the world of incredible collages and a true understanding of what children love about picture books. With over 70 books under his belt, Eric Carle has done it again with The Artist Who Painted a Blue Horse, a visually stunning story with a simplicity that will appeal to the youngest of children. Yet, it's Eric Carle, so there are multiple layers to this story, and older children may be interested in the story behind the legendary blue horse. The art in this book, as with all his others, appears so accessible to children in a way that inspires them to create their own art, which is what every successful illustrator wishes to inspire!
Though I am a Round I panelist in this Fiction Picture Book category for the Cybils, my opinions are solely my own and are not meant to reflect the final outcome.
Don't miss a thing: Check out our current giveaways. Subscribe to our feed or video reviews on YouTube. Follow us @5M4B on Twitter or on Facebook.
Dawn juggles teaching, parenting, and reading on a daily basis, sometimes hopping back over to give her blog, my thoughts exactly, a bit of attention, too.