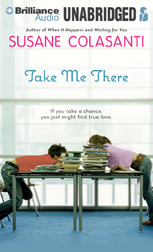 Take Me There by Susane Colasanti is the quintessential high school drama. Through alternating points of view the reader meets Rhiannan and her best friends James and Nicole. Typical of any teenager, Rhiannan has just experienced her first heartbreak and is struggling to get back on her feet. With a little support from her friends and a touch of revenge against the boyfriend stealing, snotty girl in school, Rhiannan survives. Although Rhiannan seems to be the main character, alternating chapters present the stories of James and Nicole. Nicole has a troubled past that she hasn't shared with her best friends and James is developing deeper feelings for Rhiannan. It is very interesting to watch James' jealousy present itself while Rhiannan remains clueless about his feelings.
This is a story about friendship through good times and bad with a hopelessly romantic ending. The characters were real and the colloquial language used by the author created an authentic high school background full of drama, heartache, and friendship.
This was a very enjoyable listen. The plot of the story was light and the language used by the author made the setting realistic. I think that every teenager could relate to this story. Having both male and female points of view may attract boys and girls, however I believe the mushy romantic stuff and heartache will draw more girl fans to this books. The one drawback was that at times the story lines were a little hard to follow as I heard it through one character who may have left some details out but was filled in by another character in a later chapter.
AUDIO NOTES:
I enjoyed listening to this story. With three different points of view I can imagine that reading the book may prove to be confusing. However, with three different performers, one for each character, it was easy to follow the stories of Rhiannan, James, and Nicole. MacLeod Andrews, Angela Dawe, and Sarah Grace did an awesome job playing the roles of teenagers. I was able to imagine myself back in high school through their voices.
You can listen to an excerpt at Brilliance Audio's AudiobookStand.com
Guest Reviewer Betsy is a Youth Services Librarian at her hometown library. She is due to start a new chapter in her life this September with her fiancé Adam, a comic book fanatic, at their book themed wedding. She does most of her reading (listening) while walking her two dogs in the morning, her favorite time of the day. Betsy enjoys apocalyptic fiction, historical fiction, and everything in between.