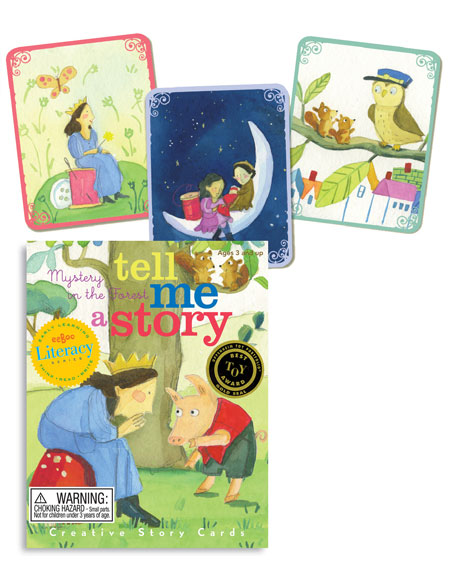 We've been learning how to not only read stories around here, but how to tell them. Of course, the best way to engage toddlers in stories is to appeal to their funny bones in the form of silly stories. (My son has been telling a few silly stories of his own lately!)
We have been utilizing eeBoo company's Creative Story Cards to engage with the art of story telling and we've been having a marvelous time! Specifically, we've been using the Mystery in the Forest cards to make up stories that produce laughter and guffaws.
These cards are part of eeBoo's Literary series and are created for toddlers on up to spark imagination and prompt children to think on the fly with little picture promptings. There are 36 flash cards in each of the Creative Story Card packages (and there are several themes to choose from). What we've done with our set, is to take the stack, shuffle the deck and lay the cards out one by one, trying to create a full story out of all 36 cards. Many of the cards carry a similar theme throughout. For example, in the Mystery in the Forest pack, there is a spool of thread and a lock and key which appear on many of the cards. It is fairly easy to craft a good story, even though the images on each card are different.
There are many ways to weave a good story with these cards. YOU can tell a story with them, your child can tell a story or you can play the Silly Story Game where you take turns choosing cards and adding to your tall tales. Being that the pictures are on 3×4 cards, it feels more like a game than "a learning activity." These cards are warmly inviting, drawing children in with princesses, raccoons holding maps, birds, keys and presents. They are very fun and my 2 1/2 year old has had a ball playing with them! He refers to the cards as the "Silly Story Game" and asks to play it frequently. The best thing? Each time we play it, the story is different! There is a lot of variety packed into these 36 cards and I love them for that!
I think these are fabulous in their own right, but I'm also pretty pleased with pretty much ANYthing that eeBoo has to offer. All of their products are well-made and of high quality. I've been incredibly impressed with them. My admiration would seem to know no bounds as I am happy to tell you that not only are they are quality company, but also a generous one.
They have offered a package of the Mystery in the Forest Story Cards to one of you readers. In order to win? Take a peek at their Tell Me a Story Cards and come back here and leave a comment. That's it. Take a peek. Leave a comment. (U.S. Residents only, please.)

If you are interested in learning the art of creative story telling with these cards, you will also be happy to note that they have Write Me a Story creative writing pads which match the theme of their card packs. This way, your children can craft and write down stories along with the cards and use the matching stickers to illustrate their personally made lores and legends. Not only is it cute – it's quite fun. And FUN is what story-telling is all about, right?!
Congrats to Debbie, commenter #19. She is the winner of last week's giveaway Blue Like Play Dough. Thanks to all who entered!
Carrie comes by her book obsession honestly, having descended from a long line of bibliophiles. She blogs about books regularly at Reading to Know.

This is part of the 2009 Back-to-School Giveaway. We'd love it if you helped spread the word!
Leave a comment on this post as your entry (per the instructions above).
One entry per person. This contest is open to U.S. shipping addresses only.
New giveaways will be posted through August 26. Winners will be announced August 31.
Check out the list of the other giveaways in the 2009 Back-to-School Giveaway at the main post.