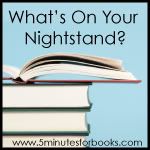 It's time once again for us to share what we have recently pushed off our nightstands, what we hope to read this month, or perhaps just some thoughts about why we haven't been reading, and how we hope to turn that around!
If you need inspiration to get reading, make sure to visit the links below. We regularly have people link up their lists from all sorts of genres, from YA, to light fiction, to heavier non-fiction books and more. We have people who read "real" books from bookstores or publishers or libraries, those who download on their e-readers, and listen to audiobooks.
Reading's come a long way, baby! And we area just here to encourage you and your kids to actually make time to read.
Please link up below, or if you don't have a blog, leave us a comment and let us know what you are reading.
Check out our current giveaways. Subscribe to our feed. Follow us @5M4B on Twitter or on Facebook or YouTube.