Our Father's Day Giveaway 2 dealt with some inspiring stories that also happened to be pretty manly (an extreme sportsman and a farmer), and today we are offering more of the same.
Blue Ice by Frank Ewert
Blue Ice
is a collection of 6 short stories about Canadian Hockey. Written by Frank Ewert (himself a Canadian) and published by Canon Press, this is a quick but action packed read. Somewhat surprisingly (from my experience with Canon Press) there is some foul language included. It is randomly thrown in here and there. Other than that, the book remains completely unobjectionable as Ewert shares his lifelong love of this particular game through fictional (and otherwise) characters. He dedicates this book to his father who "taught [him] to love his wife, work hard, and play hockey."
I can't say that hockey is my favorite topic in the world and this book definitely fell outside of my regular reading comfort zone. (Nope, I don't normally go around picking up books on hockey or watching it either, for that matter!) But every now and again I think it's fun to read something outside of the norm. Ewert's love of the game is easy to pick up on as you work your way through the stories. Being Canadian, he favors Canadian teams (team?) and in one story in particular he pits a boy's devotion to his national (Canadian) sport against that of his grandfather's American hockey team. It's a story of family love and rivalry which was quite humorous and endearing. (Can you use the word "endearing" when discussing hockey? I really don't know if that's allowed.)
For a quick read of a MANLY sport, with stories told by a true devotee of hockey, you can't go wrong with Blue Ice
.
The Purpose of Boys by Michael Gurian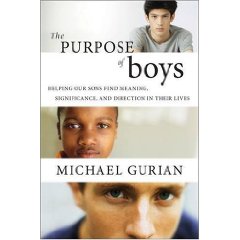 I've heard praise for Michael Gurian's books about boys, specifically The Wonder of Boys, but I've never taken the time to read them. When I had the opportunity to read The Purpose of Boys, I jumped on it. I love a good subtitle, and this one sums up the book's content quite well: Helping Our Sons Find Meaning, Significance, and Direction in Their Lives.

Read Jennifer's full review of The Purpose of Boys HERE.
Digitally Daunted by Sean & Jean Westcott
I'm not sure if a manly man would read Digitally Daunted. I mean, is reading a book subtitled to "The Consumer's Guide to Taking Control of the Technology in Your Life" the equivalent of asking for asking for directions? Well, actually, that's what makes it so ingenious! This book is written by an IT guy (Sean Westcott) and translated into non-techy speak by a writer (wife Jean Riescher Westcott). They aim to give you the information that you need to let technology work for you.
This will help any manly man (or woman) be able to talk tech like a pro (or fake it enough to make the right choices without looking stupid at the big box electronics store).
This book includes helpful information on
Buying a computer
Phone options
Television (this was one of my favorite chapters!)
Cameras (this chapter also had some great info)
Other media (such as digital readers)
A handy place to keep track of important information at the end of the chapters
Keep current with their blog digitallydaunted.com.
Enter to win all three books.
One of you will win all three of these titles (U.S. and Canadian shipping addresses are eligible to win). Leave a comment letting us know which book you want to read first (or would be perfect for the manly man on your list).
Comments will be closed for entry on June 27 and we'll announce the winner on June 28.
Enter our other current giveaways (including our first two Father's Day giveaways). Subscribe to our feed. Follow us @5M4B on Twitter.
When managing editor Jennifer Donovan is not managing this blog, writing reviews, or blogging at Snapshot, she's reading.