I wrote a while ago about the importance of including "fun books" in a child's library. For strong readers, it helps keep their interest in reading when so many things begin to compete for their love.
When Scholastic asked me to take a look at the new Bone comic book series, I was definitely interested. They fall into this "fun book" category for booklovers, and can be enticing for reluctant readers, or those for whom reading can be frustrating. My daughter Amanda (who is almost 10) has enjoyed the graphic novels that are designed for younger readers as a break from her wordier novels.
But I was also a bit wary. Comic books and the more updated, thicker graphic novels are often aimed at much older readers (teens and adults), and so a cartoonish look can be deceptive. To me, they can just convey something of a more mature attitude, even if they aren't meant to. For that reason, I had to look into the graphic novels Amanda wanted to read and verify, "Yes, they are fine. And fun. Go ahead and enjoy them."
Unlike the pink and girly Babymouse and Babysitters Club graphix that she's been enjoying, Bone looks more boyish (however, that didn't stop her from reading the copy of Out from Boneville that I received for review and telling me that she wanted to read another in the series). There are eight volumes out so far (and they have all received fabulous reviews on amazon).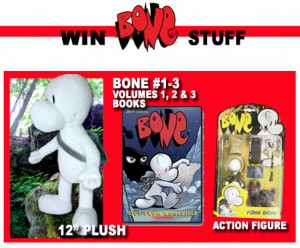 Bone is a sort of white amorphous creature (even others in the story don't know what he is). He is kicked out of town for a business deal that went sour, gets separated from his cousins, and finds a lovely lady to help him try to get back to Boneville after being breathed on by a dragon.
Yeah, the plot is hard to describe. In fact, when I asked Amanda how she would describe it, she said, "It's good. Funny."
"But what happens?" I asked her, hoping for a good two-line summary.
"I don't know. Nothing really."
In spite of the lack of a plot that can be summed up in a sentence or two, this is a neat series. If your child likes to read the Sunday morning comics, he or she will enjoy this. It is written very much like a comic strip–short scenes, block type, shadowy drawings–it's all there. Also like the Sunday comics, there is a bit of material that is not suitable for younger eyes (or goes right over their heads). That's for you to decide. I would recommend it for ages 10 and up, because of some more mature content: an OMG or two, a character who smokes cigars, a bar setting, and a little romance.
Another compelling reason to hand this over (especially to your reluctant reader) is that Bone is a reader! He carries comic books around with him, but also discusses his love of Moby Dick with one of the characters. I think that this was an intentional insertion to try to encourage additional reading. I love that.
FIVE of you can try out this series yourself:
One grand prize winner will receive the first three books in the series, a 12 inch plush character and a Bone action figure.
Four runners up will receive volume one: Out from Boneville

Leave a comment here if you'd like to win. I'll post the winners on August 27.