… Or How I Learned to Stop Worrying About the Details and Just Have Fun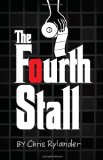 I've been asked to discuss writing for a middle grade audience. These are the kids who have moved on from picture books and early readers, but maybe don't yet relate to the characters or situations in young adult or teen novels. There can definitely be a tricky balance in writing books for this group of readers. You want to challenge them and give them stories and characters they relate to, entertain them, and still leave room for deeper complexity in the story and themes and all of that other stuff.
I think the secret to writing successful middle grade fiction is to not worry about that delicate balance. For me, the trick to finding that right mixture of content in middle grade fiction is simply to focus on writing a fun book, with a real middle grade voice that speaks directly to the kids.
Anyway, when I started writing The Fourth Stall, (linked to Dawn's review) here are some questions I didn't ask myself:
Well, how can I keep this appropriate for middle grade kids?
How should I incorporate such and such theme?
How can I get this idea across to kids?
What lesson do I want to teach them?
What if they think I'm talking down to them?
What do I want my book to be about?
How do I make sure it's not too complicated or hard to read?
How can I get kids to think my book is cool?
What if they don't like it?
What if they think the guy who wrote this must be a loser?
Oh no, what if they can tell that I'm an adult who doesn't relate to them anymore and who also likes to eat jelly with a spoon?
What if they want to feed my book to their little brother or sister?
Maybe parents will hate me for putting instructions on how to start fires in the book?
I can't put this in the book, can I?
What happens if I do?
OMG, I better not put that in there, I want to make sure parents like this book, too.
I might be sort of hungry now?
I deserve a nacho break, right?
None of those questions crossed my mind. Except maybe the last two.
But the point is, I think the key to writing for a middle grade audience, and maybe any audience, is not to over think things. Not to over analyze or stress about technical content or details or peripheral stuff. I think writing a great story that middle grade readers will relate to all comes down to one thing: having fun. Embrace your inner child. Or, you know, whatever.
The only question I asked myself before I start writing my first middle grade book is this: What would be the coolest, most action-packed, fun book that I never got to read as a 12 year old?
And the answer was The Fourth Stall. When writing it, the same logic applied. If I wasn't having fun writing about my characters, then why would readers have fun reading about them? Of course there is hard work involved, and eventually details and content will need to be addressed in some way. But, initially, writing for a middle grade audience was all about having fun and writing what I would have wanted to read as a kid. And if you write a story organically, one driven by the desire to entertain, then I think the depth and complexity and themes, and all of that other stuff will start to develop on their own. (Also with the help of a great editor.)
Although, to be fair, it may be easier for me to do this than it might be for others. My social and psychological development pretty much ended when I was 13, so I'm basically an overgrown kid myself in a lot of ways. I still love video games, action figures, playing sports, toys, Lego, laughing at weird and gross stuff, and not cleaning my bedroom. So writing for a middle grade audience comes fairly naturally for me. If the writing entertains me, then I assume it will also entertain middle school kids. And I hope it does. Because if not, then I'll fight them. After school, 3:17, by the monkey bars.
Chris Rylander is the author of The Fourth Stall (linked to Dawn's review and giveaway), recently named a Spring 2011 Kids' Indie Next List selection and showered with praise like this from author Jon Scieszka: "Here is an original – a story that really gets how guys are pals. It's also a story about sixth grade wiseguys that is funny, mysterious, and true to the heart of what really matters when you are in middle school. Do yourself a favor. Read it. Now."
Read more about Chris Rylander on his site www.chrisrylander.com.