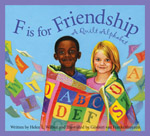 We've reviewed quite a few of Sleeping Bear Press's Alphabet books here. We love them. If babies and toddlers come to mind when you think of alphabet books, then you've never looked at one of their fantastic picture books that uses an amazing strategy to make them appeal to younger kids (4 – 6 year olds) AND older kids (7 – 10 or so). Each alphabet book provides an in-depth look at a certain topic, letter by letter. On the page with the picture is a short poem, suitable for the youngest of children. On the side of the page several paragraphs provide real facts and details to feed the endless quest of information that some older kids have.
That's great, and why we love these books BUT F is for Friendship: A Quilt Alphabet takes it a step further. This is a beautiful book perfect for the adult quilter.
Quilting is back. It's not just for grannies. If you love to quilt, you are going to love this book (grannies or recent graduates!). Or if you are looking for a way to share your hobby with a child, this book is perfect. How else will they learn about
the competitions at exhibitions and fairs
the friendship element of quilting bees
the Names project, AIDS Memorial Quilt
sewing machines, thimbles, and yard goods
And as most of Sleeping Bear Press's titles have, there's a teacher's guide to go with this one as well, perfect for use at home or in the classroom.
Jennifer Donovan has never quilted, but she thinks that she could easily become addicted to remnants and fat quarters. She treasures the quilt that her grandmother machine-quilted for her before she died, as well as the quilts that her husband's grandmother made for each of her kids at their birth. She shares about other pieces of her past at her blog Snapshot.