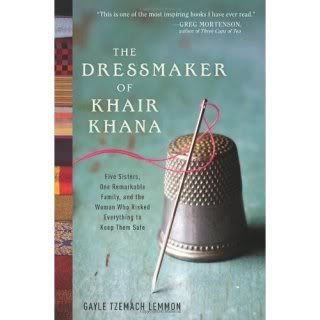 I take so many things for granted: freely leaving my home when I want, pursuing interests and education, communicating openly with friends and family. I don't give activities like these a second thought, but in many parts of the world, women can only dream of these freedoms. In The Dressmaker of Khair Khana
, former ABC news correspondent Gayle Tzemach Lemmon tells the amazing story of Kamila Sidiqi, a young Afghani woman whose life completely changed when the Taliban rolled into Kabul. Within hours of the Taliban's arrival, women became prisoners in their own homes. Because her father fled the city in search of safety, Kamila felt the burden of caring for her sisters and young brother. While living withing the strict Talibani rules, Kamila found the strength and ingenuity to start her own business that not only helped her family to survive, but also encouraged and assisted many of her female neighbors.
The events of 9/11 made all of us more aware of Afghanistan and the plight of the women there. Although I had read about the Taliban's oppression, Kamila's story made the news accounts seems so much more real and personal. I am awed by the strength of Kamila and her sisters. Their lives changed in unimaginable ways in an extremely brief period of time, but they remained strong and supported each other. While The Dressmaker of Khair Khana
tells the story of a war and its devastating consequences, it also reminds us that women are strong, and they are often the glue that holds the pieces together when lives are falling apart.
I highly recommend The Dressmaker of Khair Khana
. You will be amazed by strong women in unfathomable circumstances, reminded of the many blessings that are so easy to take for granted, and inspired to do more with what you have!
Lauren is a wife, mother of two, and an avid reader. She thanks Harper Collins for the review copy of this book. Lauren blogs at Baseballs and Bows.