I've been trying to expand my reading horizons lately, and have (for the most part) enjoyed the change. Still it was a great treat to pick up Before the Season Ends by Linore Rose Burkard and come back to one of my favorite eras, 19th Century England.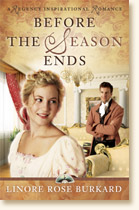 I was intrigued from the opening lines,
Something would have to be done about Ariana. All winter, Miss Ariana Forsythe, aged nineteen, had been going about the house sighing. "Mr. Hathaway is my lot in life!"
As it turns out, Ariana's family isn't quite convinced that Mr. Hathaway, a rector in his late fifties, is God's plan for her. She soon finds herself in London for a season with her wealthy and widowed aunt. A literal run in with the scheming Lady Covington leads to an unexpected tie with the roguish (handsome, and rich) Phillip Mornay. Can Ariana's faith withstand her being thrown into the fire of London society?
Pride and Prejudice fans might argue that the Ariana/Phillip romance is a replica of the relationship between Lizzy and Darcy. Certainly, Phillip reminded me of Darcy. However, since I genuinely adore Darcy, I didn't mind the similarities one bit. And I must admit that the storyline took a turn I didn't quite expect.
All in all, I thought Before the Season Ends was a delightful read. I'm eager for the sequel, The House in Grosvenor Square to see how the story ends.
Melissa has been captivated by books for as long as she can remember. She resides in Virginia and at her blog, Breath of Life.

Thanks to the wonderful staff at Harvest House Publishers, you have the opportunity to win both books as part of our Summer Giveaway (U.S. addresses only). Leave a comment on this post if you'd like to be eligible to win this book.
Click on the banner above to enter our other Summer Fun Giveaways. All winners will be announced on June 11.