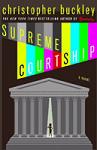 Having read two previous novels by Christopher Buckley in recent years, I knew what I was getting into when I picked up his 2008 offering, Supreme Courtship. A political premise with a whole lot of behind the scenes action? Check. Characters who jump off the page with idiosyncrasies and unique voices? Absolutely. An alternative reality that at first seems absurd, but then becomes more frighteningly believable as the story emerges? That's definitely an understatement.
As a somewhat timely read, Buckley opens the story with the occasion of an opening on the Supreme Court, and as our system goes, it is the President's responsibility to nominate an appropriate candidate. Well, with a bitter relationship between Congress and the sitting President, this of course is no simple and smooth process. After his first two couldn't-be-more-perfect candidates get pummeled during the Congressional hearings, the story really jumps the tracks when the President nominates a popular TV judge. Oh yes, you read that right– think Judge Judy, only younger and more attractive. Now, I know that sounds beyond absurd, but that's the thing about the stories that Buckley weaves. With even a cursory knowledge of Washington politics (and that's about all that I have even though I live only 15 or so miles from the White House), a reader can begin to see where reality as we know it isn't all that different from the political scenes portrayed in his books.
With a no-holds-barred approach to representing the full spectrum of the political experience, Christopher Buckley has once again turned out a story that made me laugh out loud while I also internally wondered what's really going on behind all those closed doors inside the Beltway. Highly entertaining and fast paced, Supreme Courtship has my vote for humorous political fiction.
Dawn is basking in the glory of reading outdoors, and thanks to the wonders of wireless technology, even blogs away at my thoughts exactly while sitting in her front yard.