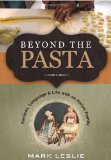 When Mark Leslie signed up for an intensive cooking and language educational program, he committed himself to living with an Italian family for four weeks. He may have had visions of increasing his understanding of the culture and adding some authentic recipes to his collection, but he couldn't have predicted the connection that he would make with the country and his host family. In Beyond the Pasta: Recipes, Language & Life with an Italian Family, Leslie presents his experiences with sincerity and humor.
Part foodie tribute, part cookbook, part memoir- all parts come together to create a unique look at one man's experience immersing himself in Italian culture. While living with a family in Viterbo, Italy, Leslie's days involve hands-on cooking instruction with the Nonna, or grandmother, of the family, and her daughter provided his language lessons. The educational program goes far beyond a simple teacher-student relationship as the family welcomes Mark with much warmth.
This book reads like a diary, or maybe more comparable to a blog today, with each day given a chapter that highlights his touristy sight-seeing and personal experiences with his host family in addition to the cooking and language lesson happenings. With each chapter concluding with a full recipe, it became fun to guess throughout each chapter which of the delicious sounding foods he was talking about would be presented in full at the end. I love the personal tone that this book takes, showing one person's perspective on immersion into the Italian culture with respect, awe and determination to experience everything to the fullest.
Leslie writes with enthusiasm in such a way that it's possible to envision the smile on his face as he recounts his experiences. His love for the wide array of foods that he learns to prepare and eagerly consumes is palpable, and I have to report that even this uber-picky eater got hungry again and again while reading this! You may have trouble figuring out where to keep Beyond the Pasta: Recipes, Language & Life with an Italian Family, with both the bookshelf and cookbook cabinet saving it a spot.
Dawn loves to immerse herself in someone else's life via memoirs. She can be found telling her own life story on her blog, my thoughts exactly.