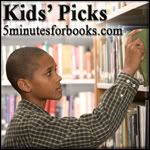 We've been announcing that we are letting go of most of our weekly carnivals. It's sad to see them go, but we think it's for the best. We will still be hosting What's in Your Nightstand, the 4th Tuesday of each month, so feel free to tell us what your kids have been or will be reading in that post in the future.
We are going to continue to encourage kids (and adults) to read quality kids' lit (or just to read!!), and one way is by hosting the Cybils Challenge for 2011. You will be able to choose which books you read, and how much you read. Stay tuned for an official signup post, but I do hope you'll consider joining us as we explore current and past Cybils nominees, finalists, and winners.
But Kids' Picks isn't over yet! Link up (or jump in in the comments) and tell us what your kids have been reading and enjoying.
Check out our current giveaways. Subscribe to our feed. Follow us @5M4B on Twitter.