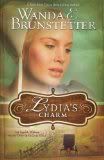 Author Wanda Brunstetter is well known for her Amish fiction novels. In her newest release, Lydia's Charm
, Wanda delivers another story that will capture the hearts of Amish fiction fans.
Lydia King is newly widowed. Because she can't find work, Lydia takes her four-year-old son and returns to live with her mother and aged grandfather in Charm, Ohio. Lydia is able to find a job, but life is far from smooth. Lydia's mother is weary from serving as caregiver to her sick father. Adding a four-year-old to the mix only serves to heighten the tension. Additionally, Lydia and her mother have never had a close relationship, and while they depend on one another as family should, there is little emotional support or caring.
Widower Menno Troyer and bachelor Levi Stutzman both notice Lydia's arrival to Charm. Menno, a father of four boys, desperately needs a new wife, and Lydia fits the bill. Levi Stutzman is devoted to helping his own parents and has pledged not to marry, but he fancies Lydia despite his attempts to ignore her. When tragedy strikes, Lydia and her mother must learn to love one another, and Lydia must decide what is best for her own future.
We've all heard that bad things happen to good people, and that is certainly true in this novel. However, the determination and kind spirit that is typical of the Amish people shines through in this story. I enjoy Amish fiction, and this book was no exception. I will say, however, that this book was less "Amish" than most books I have read, probably because the problems were not problems that are limited to the Amish community, but struggles that are faced by everyone. I couldn't help but sympathize with Lydia, and of course, I knew how I wanted her life to work out (I won't tell you if I was pleased with her choice or not)!
If you enjoy author Wanda Brunstetter's novels, or any Amish fiction, be sure to pick up a copy of Lydia's Charm
. It is a heartwarming story perfect for reading during the holidays. It will remind you to hold your family near and to treasure and tend to the family relationships you have been given.
Lauren is a wife, mother of two, and an avid reader. She thanks Planned Television Arts for providing the review copy of this book. Lauren blogs at Baseballs and Bows.