Teaching Your Children Healthy Sexuality by Jim Burns sat on my nightstand, waiting to be read, for months. I avoided it, because I just wasn't ready to go there with my 10-year old daughter. Boy, was I wrong to wait! You can read why on my blog (here and here).
Jim Burns is the President of HomeWord, a ministry for parents. According to the website, Every thirty minutes in America – 2,795 teenage girls will become pregnant. Every 30 minutes. In America alone.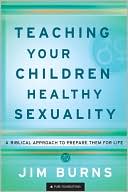 Modern culture inundates our children with sex. It's difficult enough to monitor at home, with television and internet…let alone outside of the home. Burns realizes this and suggests that parents begin combating the secular view of sexuality with our children, as early as age three. We have the opportunity to lay a positive foundation inside the home, one that won't be shaken when our children enter the world. We cannot let our fear keep us from teaching our children the Biblical values of purity and sexuality. It will require hard work. We may encounter some resistance from our children, but it's our responsibility.
For example, Burns' daughter purchased a swimsuit with her own money. He felt the suit was not appropriate, but it could not be returned. He bought the suit from her and went with her to buy another (that he paid for). The transaction cost him quite a bit of money, but he insists his daughter's modesty was worth it. Many parents would have given in to avoid an argument or seeing the money wasted. Burns was committed to teaching his daughter by Biblical standards.
Burns explains how to help your children set standards and give honest, age-appropriate answers to tough questions. The book even contains a guide of discussion starters and faith questions. Teaching Your Children Healthy Sexuality is a must-read for any parent.
Melissa has been captivated by books for as long as she can remember. She resides in Virginia and at her blog, Breath of Life