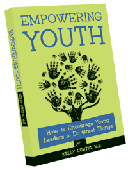 This book is not full of self-esteem mumbo-jumbo, that new philosophy with a focus on a largely inflated and empty esteem. No, in this book Kelly Curtis uses the six empowerment assets which "relate to the key development need youth have to be valued and valuable" (page 4).
To read my full review of this book that I recommend for anyone who works in any capacity with young people, head over to 5 Minutes for Mom. There's also a giveaway copy up for grabs.
Managing Editor Jennifer Donovan also blogs at Snapshot about life with her tween daughter and preschool son.