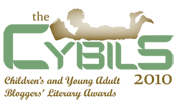 I've been sharing Cybils Award nominees in the fiction picture book category lately, because I've been immersed in this reading and loving it. Several titles have popped out at me for their attention to more serious emotional experiences and their wonderful, gentle approaches for young readers.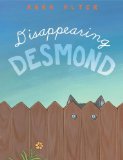 While shyness may not seem like a huge deal to adults, for some children, its seriousness is a familiar challenge. With Anna Alter's Disappearing Desmond, the idea of differing temperaments is handled with grace and fun, never making a judgment statement on either being shy or gregarious. This is simply the story of a friendship that benefits two children in unique ways for each of them, and it is told in a comforting tone that I imagine would appeal to more reserved kids.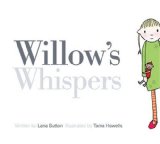 In a similar vein, Willow's Whispers by Lana Button depicts a child who simply cannot find a loud enough voice to make her wishes and desires known, so unfortunately, she ends up sitting alone for lunch and doesn't get served the type of juice that she really likes by the teacher. Willow's thoughtful attempts at expressing herself loud enough to be heard are encouraging and affirming.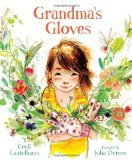 When families with young children find themselves dealing with a death of a loved one, they often turn to books as a way to help children understand and process their emotions. Two Cybils nominees address this issue in different ways, but both beautifully and lovingly. Grandma's Gloves by Cecil Castellucci, is a realistic story of a young girl whose grandmother has passed away. Their very close relationship is heartwarming, and they often spent much of their time gardening together. This bond helps the girl and her mother work through their emotions following her death.
In a more subtle manner, death and loss is also dealt with in Mo Willems' City Dog, Country Frog, with gorgeous illustrations by John J. Muth. The story progresses over a year in which the dog remains vibrantly young, but the frog's much shorter lifespan is nearing its end. The energy of this story is conveyed through its simple text and perfectly emotive illustrations. (Full disclosure- I watched the clock turn to midnight on 10/1 so that I could be the one with the honor of nominating City Dog, Country Frog— one of my favorites from this year.)
If you're looking for more picture books that have been nominated this year, please visit the Fiction Picture Book page and browse the titles. The finalists will be announced on January 1, and I hope to share more from my growing pile in the coming weeks.
Check out our current giveaways. Subscribe to our feed. Follow us @5M4B on Twitter.
Dawn's fascination with picture books is indulged each and every day with her kids. Their adventures, bookish and not, can be found at my thoughts exactly.