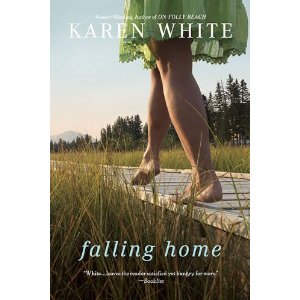 Karen White's Falling Home is a novel about coming home, or as the title suggests, simply falling back into it.
Cassie Madison left her home in small-town Georgia when she was twenty, and she's never looked back. Estranged from her sister for the past 15 years, and seeing her father only once a year, she's convinced herself that the new "Cassandra" is a better person. When she returns home for her father's funeral, she begins to reevaluate her current life, priorities, and the stereotypes she's made about her relatives and classmates who stayed in her hometown.
This is a novel about sisters and fathers, about growing up and moving on. I think many of us will see ourselves in Cassie or in her sister Harriet. I saw the plot twist coming, but I still enjoyed this fairly light read about self-discovery with a little romance thrown in for good measure.
Can you go home again? Would you want to? Read Falling Home, and you might be surprised how you end up feeling about it.

Two of you can enter to win a copy (U.S. and Canadian shipping address). Just leave a comment here if you are interested, and we'll announce the winners on 11/17.
Content: There is a little bit of profanity, but otherwise it's a fairly clean novel, which will give it a wide audience.
Check out our current giveaways. Subscribe to our feed. Follow us @5M4B on Twitter.
Jennifer Donovan has two "homes" — Connecticut where her children have grown up, and Texas, which is in her blood. She blogs at Snapshot.