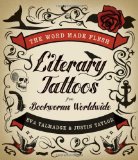 For some, the word tattoo might conjure up images of risque female silhouettes on burly bikers' biceps, but apparently there is a growing trend in the ink world of tattoos related to literature. Thanks to The Word Made Flesh: Literary Tattoos from Bookworms Worldwide, I've seen an amazing collection of tattoos that go well beyond that stereotypical image.
Eva Talmadge and Justin Taylor have compiled over 150 images of tattoos related to books, poems, authors and illustrators that are beloved enough by some folks that they've chosen to adorn them on their own skin. The gamut is wide- Shakespeare, Twain, and Melville sit on pages beside Eric Carle and Shel Silverstein. The complexities of the tattoos also vary greatly, from simple text to intricately detailed sleeve tattoos that encase entire arms. Many photographs are accompanied by the stories behind the tattoos, and reading about the significance for those who chose them was just as interesting as the images themselves.
In my opinion, you don't have to be a tat-lover to appreciate this book, but a love of all things literary certainly heightens the appeal. Personally, I don't have any tattoos, but this book got me thinking. I turned to my own favorite book, Audrey Niffenegger's The Time Traveler's Wife, and stumbled upon one line that I had already highlighted during one of my readings- "All times at once. A long time ago, and right now." Don't you think that first sentence would make a great tattoo? (Update 11/14/10: It absolutely DOES make a fabulous tattoo- on the inside of my left forearm!!)
If you're looking for inspiration, or just want to take time to appreciate some beautiful tattoo art and literary homages, you must check out The Word Made Flesh: Literary Tattoos from Bookworms Worldwide.
Dawn has a big birthday coming up, so… you never know. If there are any literary tattoos in her future, chances are the story would be told on her blog, my thoughts exactly.