A good biography (in my humble little opinion) should contain several elements: A sense of what made this person remarkable — assuming that the reason that their life is chronicled is because they have something to share, some personal revelations that tell me more about who this person is outside of his or her public life, and some sort of common ground that an ordinary person like myself shares with this otherwise remarkable figure.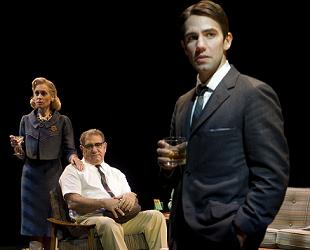 I was so pleased to be able to see Lombardi on Broadway while it was in previews. While I haven't read the book that it was based on, When Pride Still Mattered : A Life Of Vince Lombardi, the show contained all the elements I listed above that I love to see in a biography.
It's more than just a football story. It's a story about what makes men great, and how those characteristics can be an asset as well as a liability. It's a story about family. It's a fun look at the 50's and 60's.
Dan Lauria and Judith Light are awesome. If you live in the NYC area (or plan a visit soon), I can highly recommend it, whether you are a football fan or not.
If you can get into NYC, you don't want to miss this show. Please click over to 5 Minutes for Mom to read my full review, and enter to win a pair of tickets to this show at the amazing Circle in the Square theater. The giveaway closes on Sunday. Please enter now!
Comments are closed here. Please leave your comments (and giveaway entries) there.