In one respect, I appreciate the tag of "reluctant readers." On the other hand, I wonder what it conveys. Does it mean that these are sub-par books? Easier than the grade level indicated? Funny? Crude? Depending on the book, you could answer yes or no to any of those. With a son who will soon be looking for "middle grade readers" who is a good reader, but as of now, a bit "reluctant," I have to admit that books described as appealing to the reluctant reader does catch my eye.
These books have all been nominated for in the Cybils Middle Grade fiction category, and have male protagonists, text that isn't too small, and a length that isn't too long. They also each have some illustrations, mostly as a doodle in the margin or a half-page line drawing, which does make a reader want to at least flip through it (Hey, maybe picking up the book is half the battle!!).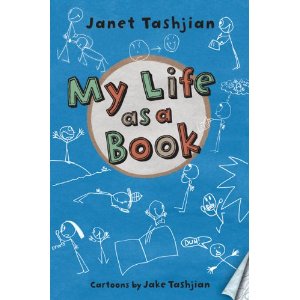 My Life as a Book, written by Janet Tashjian and illustrated by her 15-year-old son Jake, tells the story of 12-year-old Derek's summer. Derek is a reluctant reader, in spite of bribery from his mom (one chocolate chip for every page read), and isn't thrilled about the fact that he has to read three books for school over the summer. I like the fact that the point is made that he does like to read — comic books and the like. He just doesn't want to read school books, but with the help of a school friend and a camp counselor, he does get through at least one book.
However, he'd rather live an adventure than read about someone else's. His summer is spent tracking down information about the mysterious drowning of a teen girl, hanging out with his dog Bodie, and generally engaging in boyish fun. I think that this book will appeal to boys and girls from 9 – 12. It is free from the attitude that comes along with many books aimed at this audience, which will appeal to their moms.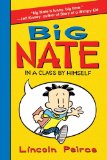 Big Nate: In a Class by Himself by Lincoln Peirce is a book that does serve up some attitude. The whole book is about how Nate does not like school, and gets into trouble. It was pretty amusing, and mostly harmless, but those who keep a closer eye on that sort of attitude in media might want to avoid it.
Kids who don't excel in school will identify that Nate struggles in that way as well. I liked that it was pointed out that he does excel in other areas, like art, and in spite of the trouble he gets into, he seems to be well-liked, even by the teachers who are handing out the detention slips. This book is a lot of fun, and while the typical "I hate school/teachers are dumb" attitude is central to the plot, it's not going to be news to many older elementary boys.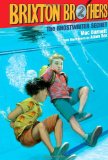 The Ghostwriter Secret is the 2nd in the Brixton Brothers series. I did not read the first book, and did not feel like I was missing anything when I read this one. Steve Brixton does not have a brother, but he named his detective agency after the Hardy Boysesque series of books he loves to give it some more credibility. After solving a mystery (the subject of book one The Case of the Case of Mistaken Identity), 12-year-old Steve has earned a name for himself.
I was first introduced to Mac Barnett, because he contributed a story to Guys Read, but this was the first I had read. This book has a subtle humor — Steve's way of looking at the world — and a real old-school detective feel. Steve has a little bit of an attitude about his mother's boyfriend, but he isn't exactly painted as someone who an adult would respect either.
I would also put The Strange Case of Origami Yoda in this category as well (linked to my full review).
Check out our current giveaways. Subscribe to our feed. Follow us @5M4B on Twitter.

Jennifer Donovan has been knee deep in Middle Grade Fiction for the last month or so. She blogs at Snapshot about life with her family, which includes a 12-year-old bookworm and a 6-year-old boy.