My son, who most of you should know by now, is two, and I've been wondering how to approach the story of Jesus and Easter to him. Last year we really couldn't get into it the message very much, so we focused on the fun things – like an Easter Egg Hunt. I like being excited about holidays and I particularly like building excitement in others when it comes to holidays. This holiday though is rather special and, to me, is deserving of some added attention. All of that to say – the hunt was on for some good/fun books about Easter that would help share the message that I want shared with my son.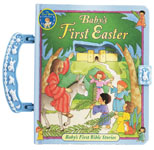 Standard Publishing is my standard for books on religious holidays so I started there. We have their Baby's First Bible already (which my son loves) so I was delighted to discover Baby's First Easter which has the same front snap cover and is a window picture book. Baby's First Easter begins with Jesus riding through Jerusalem on a donkey and concludes with John 11:25-26. Although the story does talk about the cross, the only way that Jesus is depicted as being a part of it is by showing him carrying it up to the hill. He is not shown on the cross. For now, with where we are at age wise, I found this book to be highly appropriate and exactly what I was looking for. It's a great place to start and I liked this book very much.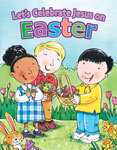 Let's Celebrate Jesus on Easter combines holiday traditions along with the message that Jesus came to die for our sins. The illustrations in this book focus on the cute and cuddly animals and fun activities but concludes with the message of Jesus. This book is part of Standard Publication's Happy Day book series (that I used to read when I was little). The illustrations are very cartoonish and remind me of a children's magazine which, for my part, is appealing.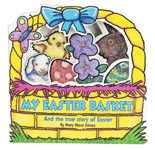 Lastly, My Easter Basket combines some of the fun activities of the holiday with the message of God's love. This book references the colors in the Easter basket and shares a correlating message (e.g., "The green inside my basket is like the palms that lay upon the ground for Jesus for his parade one day."). The top half of each page displays glittery items in the Easter basket while the bottom half of the page shows pictures of the Easter story itself. I really like this book because it gives some practical application and makes the holiday feel more celebratory – as it should!
I LOVE the traditions of Easter – confetti eggs, cookies, egg hunts, big dinners followed by long naps (in my dreams), cakes, bright colors and FUN! I love holidays that are packed full of meaning and celebration and so I'm eagerly anticipating this Easter season and am grateful for books like these that can help me as I share the reason behind our celebration with my son.
Carrie comes by her book and holiday obsession honestly, having descended from a long line of bibliophiles – and a mother who tried to make each holiday special in its own unique way! She blogs about books regularly at Reading to Know.