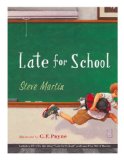 Whether he sticks in your memory from his days on Saturday Night Live, or for his film turn as the father of the bride, or for his mad banjo playing skills, you know Steve Martin is talented and beyond hilarious. But were you aware that he is also a successful author, in the forms of fiction and memoir, and now with Late for School, in picture book form as well.
Upon first read through, the rhyme and rhythm is appealing, telling the story of a young boy who wakes up to discover that he's dangerously late for school. His mad dash to get ready and to his desk before school starts becomes more than just figurative. Tripping over untied shoelaces, leaping over pools, and hitching a ride on a kite all lead to his arrival at school only to be met with quite a surprise.
The cool thing about this book is that because it's by Steve Martin, it's not just one-dimensional. Pop the accompanying CD into your player and you'll be rewarded with the story put to song– an upbeat, wildly crazy song sung by Steve Martin himself, and of course accompanied by his banjo. I honestly dare anyone to keep their hands and feet still while listening to this song!
This book just oozes fun and enthusiasm- from Martin's fervent performance to C.F. Payne's illustrations that evoke the feelings of Norman Rockwell's paintings, with an added level of goofy exaggeration. (You can't see it so much on the cover, but this boy has some ears on him!)
If you want to laugh and jam to some mean banjo picking, get Steve Martin's Late for School for your next picture book read!
When music and reading come together, both Dawn and her kids are happy. More of their joys can be found chronicled on her blog, my thoughts exactly.