Khaled Hosseini's The Kite Runner is such a beautiful story. I read the book a year and a half ago, which sets me up perfectly to enjoy an on-screen adaptation of the book (My recipe for success in this area? Read book. Love book so much that I want more. Let time pass — at least a year — so that the details of the book have softened in my mind. Watch movie.). For more details about the story if you are unfamiliar with it, please read my review of the book.
I didn't rush to watch the movie for the same reason I hesitated to read the book — it's a tough story dealing with the pain of regret. But once I started reading the book, I was drawn in by the beautiful language and heart-felt story.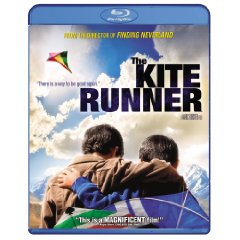 In a similar way, the film is so visually appealing that it drew me in right away. Watching the movie — already knowing the story from the novel — gave it an even greater effect. The weight of Amir's bad choices just hang in the air, since I know what's going to happen. However, seeing it play out on screen, I had a slightly different reaction. Hassan's loyalty seems more real and less of an archetype. Amir's youth and insecurity is more readily understood. As time passes, watching Amir's persistence and sacrifice to right his past wrongs gave me the same emotional reaction that the story of redemption in the book evoked.
If you've avoided this story because of its difficult content, I recommend this movie to you. You'll get a taste of the story, but in a two-hour chunk with an uplifting ending, as opposed to having to invest in reading 400 pages — 400 beautifully written pages — but nonetheless. . . . On that note, I have to say that you will be reading a fair bit if you watch the movie. Most of it is subtitled, and this surprised me, even though I knew that the majority of it took place in Afghanistan.
It is not a story without hope. As the movie highlights "There is a way to be good again." The movie's ending is a bit happier than the book's, not because anything material is changed, but because some of the details are left out. Some of you will like that.
Watching the movie has made me want to read the book again, and I'm sure that I will at some point, but for now, I think it's encouraged me to finally read A Thousand Splendid Suns (I stated this same intent in my book review over a year and a half ago, but I kept delaying, and as always happens, other books got in the way, but will you believe me now if I say I really, really plan to read it?). Khalid Hosseini is a beautiful storyteller.
In honor of the release of this movie (rated PG-13) in Blu-Ray format, I have one Kite Runner Blu-Ray DVD to give away (U.S. or Canadian shipping addresses).
It truly is a beautiful movie — the type that plays out wonderfully in high-definition format. There are also some great special features, including interviews with the director and the author of the book, which I enjoyed. Khaled Hosseini is even featured in the commentary on the movie (that I haven't watched yet), which shows his active role in adapting his book to the screen.
He's pleased with the movie. Yes, there is a lot cut out, but there are no significant changes, so even book purists will probably be pleased with this movie.

Just leave a comment if you'd like to win, and I'll announce the winner on April 1.
In addition to books, managing editor Jennifer Donovan, loves a good story as told via a movie or TV series, which she most often enjoys on DVD. She blogs at Snapshot about life with her tween daughter and preschool son.