Tiger Tale books have recently released their Spring 2009 books and they kindly sent me the collection to browse. This is one of the perks of book reviewing, I gotta say. My son gets incredibly excited over Tiger Tale boxes (ahem, so do I!) and we have a good time looking through the collection together. Some of the recent releases that caught my eye as having a lot of kid appeal are the following.

Bunnies Are for Kissing
is a padded board book, perfect for little hands and young readers, ages 2 and up. The message from this mama and papa bunny to their baby bunny is that he is special and loved. They eat breakfast together, go outside to play, kiss away his tears when he is wounded, garden together, etc. Every so often they sneak a kiss on their little bunny. Very, very cute and a good book for cuddling.

Mommy likes Starry Night, Sleep Tight: A Bedtime Book of Lullabies
because there is glitter on the pages! (Don't worry – it doesn't rub off on your hands.) Each page has something sparkly on it which I really love. It makes the darkness of the night feel more magical to me somehow. I think Gail Yerrill's soft illustrations are complimented nicely with a few sparkles here and there. Familiar songs and rhymes are included such as Twinkle, Twinkle, Little Star and Star Light, Star Bright, as well as some that I didn't know as well like I See the Moon and Come to the Window. Cute, cute!

For a little boy who is fascinated by both sharks and monkeys, Yummy Yummy! Food for My Tummy!
couldn't have been a more perfect addition to our home library! This book tells the story of two monkeys who live on two separate islands that are positioned close to one another. They are close enough to see one another and talk but the islands are too far away for them to get to each other easily. Their plight is made worse by a bunch of sharks who are just waiting for the monkeys to make another attempt at fellowship. The monkeys try swimming and tunneling but will they make it to the other island? Well, you'll have to get the book to find out, of course!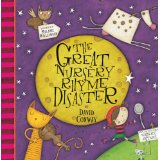 Lastly, we got a kick out of The Great Nursery Rhyme Disaster
by David Conway (illustrated by Melanie Williamson). In this book Little Miss Muffet is bored. She's tired of her silly old nursery rhyme and feels like a change of pace is in order. She sets off to be a part of someone else's nursery rhyme and discovers that everyone has their own cross to bear. In the end, she discovers that she is best suited for her own rhyme and returns to the scary spider, content to be herself. I really like the message that this book sends and am glad to have it for family use. This one comes very highly recommended by us me. I'm sure my son will grow to appreciate it more in time. Ha!
There are plenty of new Tiger Tale titles available but these were some of our favorites from the "surprise box." Check 'em out! We think you'll like them.
Carrie comes by her book obsession honestly, having descended from a long line of bibliophiles. She blogs about books regularly at Reading to Know.