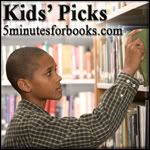 Kids' Picks is your opportunity to share those "kid tested, mother approved" books (or mother tolerated, at least). What have your kids enjoyed reading this month?
They can post a guest review on your site, or you can just share what they've enjoyed — from birth up through teens.
Link your post up directly, and tell us ages of the children, for easy surfing.
Thanks for participating.
We host a community carnival each Tuesday. Upcoming events:
March 24 What's on My Nightstand
March 31 I Read It!
April 7 Around the World in Eighty Days — Classics Bookclub
April 14Children's Classics — Dog stories
Kids' Picks Participants
Powered by… Mister Linky's Magical Widgets.