Mother's Day is coming up and it's time to start thinking about what to give to mothers. Sometimes I find myself wanting to say something special to my mom but I'm not quite sure how. Lame, I know. But still. It can be hard to express things personally. (Not to say that we shouldn't – for we should absolutely try and do our best! Even the clumsiest "I Love You" can mean more than you know, I realize.) However, if you want to just tuck an extra reminder of how much you love your mom into her gift basket or gift, then here are a few things we can suggest.

#1 – What a Wonderful Life for Moms
. This is probably one of my favorite "mom" gift books because it does what the subtitle says – it celebrates the wonder and joy of motherhood. Full-time motherhood gets a bad wrap these days to a certain extent. People are always asking me what I "do" for a job and hearing that I'm a mommy isn't always met with the awe and wonder that the post truly deserves. Being a mom is HARD WORK as any mother knows! This book acknowledges the hardship, provides encouragement for the weary, and offers little tips on how you can make each day a little brighter for yourself and for your children.

#2 – Home Is Where Your Mom Is
is true, especially for young children. This book is merely a book of quotes detailing the trials and joys of motherhood. This is a tiny little gift book (pocket sized?) that comes with a little attached bookmark, making it easy for you to mark a quote that expresses what you feel towards your own mom. (Although I hope that thought is positive!) My favorite quote from this book is as follows:
"If you bungle raising your children, I don't think whatever else you do well matters very much." Jacqueline Kennedy Onassis
(You can decide whether or not that quote is encouraging or discouraging. It appeals to me, at the very least, because she used the word "bungle" which I think is really quaint!)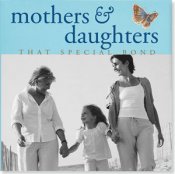 #3 – Mothers & Daughters: That Special Bond takes a look at various popular mother-daughter duos that are familiar to us. This book is also filled with quotes alongside pictures of the famous from Mary Higgins & Carol Higgins Clark to Melisa & Joan Rivers. This book is kinda cool from the perspective of seeing how much mothers and daughters tend to look alike. Plus the glamor of Judy Garland (for whatever part of her life was glamorous) is intriguing to see alongside her daughter, Liza. This book also includes a quote from Caroline Kennedy which would seem to reflect the idea that Carolyn feels very content that her mother did not bungle things as she was being raised. This book holds quotes from Ali MacGraw, Ricki Lake, Diana Ross, and Annie Dillard.

#4 – Motherhood Is Not For Sissies
. Isn't that the truth!? This book would take what some would refer to as the "realistic approach" to motherhood. It documents the spills and disasters of the home while offering humorous commentary in quotes which reference frogs, skinned knees, raising teenage girls, and cleaning up the chaos while pregnant. Best quote (in my opinion)?
"Cleaning your house while your kids are still growing is like shoveling the walk before it stops snowing." Phyllis Diller
These books are each uniquely different and express different personalities, thoughts and visions of what motherhood is (or could be?). Hopefully this gives you a few useful tips as you peruse the book aisles wondering if you could possibly find anything that would have express what you feel towards your own mother . . . as you seek to bless her this Mother's Day.
To win a copy of What a Wonderful Life for Moms
, leave a comment below. Standard Publishing is giving away one copy to one of our readers (U.S. shipping addresses only). We'll announce the winner on April 8.
This contest is closed.
The winners of last week's contests are:

The Kite Runner Blu-Ray DVD goes to #76 Karen Gonyea.

#17 MJ and #12 Amy at Hope is in the Word are the winners of the Castle books from Silver Dolphin.

If you did not receive an email from me, please send your shipping info to 5minutesforbooksATgmail(dot)com. If I don't receive your information within a week, you forfeit your prize.
Carrie comes by her book obsession honestly, having descended from a long line of bibliophiles – one of whom she's trying to brainstorm over how to bless this particular Mother's Day! She blogs about books regularly at Reading to Know.