With LOVE in the air this Valentine season, we've been reading the children's story A Book of Kisses by Dave Ross and Laura Rader. This story gives kisses all around, sharing why we give kisses and who we give kisses to. It even tells us how to say "kiss" in every language!
To celebrate this story and it's many kisses, we made Giant Rice Krispie Treat Candy Kisses! These are fun and easy treats to make, helping to share a kiss with your loved ones!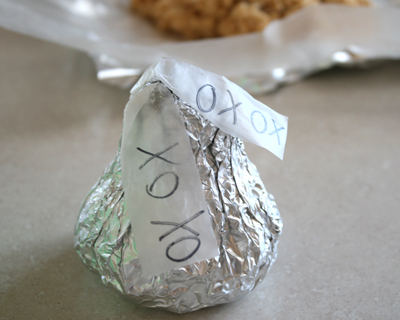 Supplies for Giant Krispie Kiss:
Ingredients for Rice Krispies
tinfoil
wax or parchment paper
black permanent marker
Make your favorite Rice Krispie recipe and let them cool poured out onto wax paper. Then pick out a handful and start to form it into a tear drop shape (this works great if you spray your hands with vegetable spray first!) It should look like a Hershey's Kiss when you're done.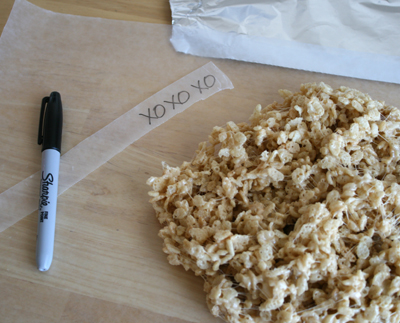 Then take a 1×15 inch piece of wax paper and write a fun phrase on it like, "I Love You" "UR My Sweetheart" in black marker. Then place the wax paper strip under your Kiss, letting the ends be longer than the actual Kiss. Now wrap your whole Kiss and wax paper strip in tin foil, ending with the top, letting the paper come out of the top. It's now ready to give someone a KISS with! Happy Valentines!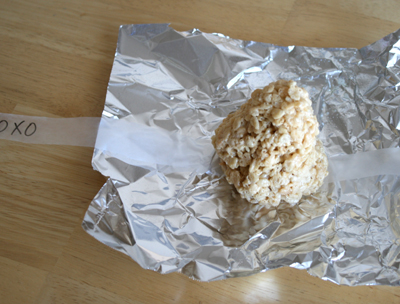 Marie, who loves to read with her kids, is crafting up a storm at her blog, Make and Takes. She is also the editor of Blissful Kids, where you can find more kid-friendly fun.