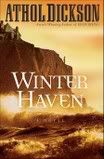 Athol Dickson's novel Winter Haven Winter Haven begins with Vera Gamble, a CPA in careful control of her carefully controlled life, arriving on the tiny remote island of Winter Haven off the coast of Maine in order to undergo the gruesome task of identifying the body of her brother Siggy, an autistic savant who ran away from home thirteen years prior. The discovery that her brother appears exactly as he did thirteen years ago catapults Vera into a journey of mystery and suspense.
Amid stories of mysterious deaths, disappearing colonists, a purported witch and a mystery man, Vera finds herself entangled in a web of secrecy and suspicion. She is haunted by visions of Siggy and her memories of her father, and begins to fear losing her sanity. She is determined to discover the truth: the truth of her brother's death, the truth of the island, and the truth of her past. In so doing, she will find her faith tested and her fears exposed.
I found Winter Haven to be an engrossing read with enough twists and turns to keep me reading long after I should've been in bed. That being said, I felt the ending to be a little too tidy (though I am extremely partial to tidy endings); another review I read described a "Scooby Doo wrap up," a description which seems to fit.
Tidy "Scooby Doo" ending or not, Winter Haven is an eery, enjoyable, gothic novel.
You can read an excerpt of the book at the publisher's site.
Wife and mother, Bible teacher and blogger, Lisa loves Jesus, coffee, dark chocolate and, of course, books. Read more of her reflections at Lisa writes….