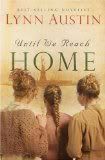 I have been a fan of Lynn Austin for several years. Her Chronicles of the Kings series is one of my favorites, and I also highly recommend her Refiner's Fire Series. Because of this, I was excited when I received a review copy of Until We Reach Home, Mrs. Austin's newest book.
In our day of telephones and internet, it is difficult to imagine leaving a place and never again having contact with anyone there. Throughout the history of our country, however, thousands of people left their homes and families in search of a better life, leaving behind everything and everyone familiar to them. In Until We Reach Home, Lynn Austin tells the story of the Carlson sisters as they travel from Sweden to start a new life in America. Unfortunately for these three young ladies, difficulties arise around every corner, and secrets threaten the trust and security they have with one another.
Although Until We Reach Home is not my favorite book by Lynn Austin (I still consider the two aforementioned series to be her finest), I enjoyed reading about the Carlson sisters and their journey to America. I can only imagine travelling in steerage across an entire ocean and being herded through Ellis Island, but Mrs. Austin's writing made the scenes vivid in my mind. Additionally, the message of this story is one that people of all times can understand: We will face hardships in this life; but with God, even the most difficult circumstances will work together for good.
Until We Reach Home is a story of love, renewed hope, and finding home. I encourage you to read it.
Lauren is a wife, a mother of two, and an avid reader. She blogs at Baseballs and Bows.