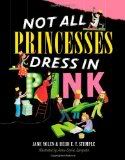 My daughter is all girl when it comes to wearing dresses and colors like pink and purple. Not long ago, my dad asked, "Why do you make her wear dresses all the time?" I laughed and explained, "I don't make her. If I get anything else out of the closet, she complains and begs for a dress. That's all she wants to wear." Of course, even with a dress on, my princess can hang with the boys. My son plays baseball, and as you can imagine, he is covered with dirt and grass stains at the end of a game. Unfortunately, he is never the dirtiest person in the car on the ride home from the field. That honor goes to my daughter, dress and all! She likes to feel pretty, but she sure likes playing with dirt, rocks and bugs!
Because of this, my daughter and I were thrilled to review Not All Princesses Dress in Pink
. This new book by author Jane Yolen (of Owl Moon
fame) is a delight! The rhyming text playfully describes young princesses who dig in dirt, fix things with power tools, battle villains, and win races, all while wearing crowns. For example, "Some princesses wear their jewels while fixing things with power tools." (I love it!) The illustrations are whimsical and fun, and they include princesses of all nationalities.
If you have a young princess who enjoys the finer things of life, while also playing and getting dirty with the best of them, I highly recommend Not All Princesses Dress in Pink
. My daughter and I have enjoyed this book many times, and I know it will have a prominent place in her book basket in the months to come!
Lauren is a wife, a mother of two, and an avid reader. Although she was not a princess as a little girl, she enjoys watching her daughter playing in full royal attire. Lauren blogs at Baseballs and Bows.