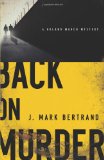 Back on Murder is, from what I understand, J. Mark Bertrand's first foray into detective fiction and it's a good one. Really good. Everything that marks a good book is here: compelling plot, complex characterization, smart prose. It is an intricate, intelligent mystery with a complicated and sympathetic protagonist. I liked Back on Murder. I liked it a lot.
Houston homicide detective Roland March was once one of the best. Now he's disillusioned, cynical, and on his way out. His superiors farm him out on a variety of punishment details•until an unexpected break gives March one last chance to save his career. And his humanity.

All he has to do? Find the missing teenage daughter of a Houston evangelist that every cop in town is already looking for. But March has an inside track, a multiple murder nobody else thinks is connected. Battling a new partner, an old nemesis, and the demons of his past, getting to the truth could cost March everything. Even his life.
Some of the endorsements for Back on Murder employ such praise as: "an astonishing and powerful mystery" and "extremely well crafted" and "grit and tension of a great crime novel." While I sometimes take such endorsements with a grain of salt, here I can tell you that they do not lie. I thoroughly enjoyed reading Back on Murder and will be eagerly awaiting the next Rolland March mystery!
Intrigued? Here's an excerpt!
Wife and mother, Bible teacher and blogger, Lisa loves Jesus, coffee, dark chocolate and, of course, books. Read more of her reflections at Lisa writes…. Lisa thanks Bethany House publishers for providing the review copy of Back on Murder!