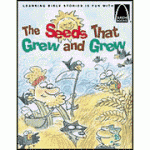 Does anyone out there remember reading the Arch Books by Concordia Publishing growing up? I had a handful of them when I was younger and I was ecstatic to know that they are still around and being published today. I'd love to share various Bible stories with my kids with Arch Books. Although they are still a bit too old for my two year old (I'd say they are best for ages 4-8) I'm happy to start collecting and to have some on hand for when my kiddo is older.
I was looking into their books based on Jesus' parables for my son and it brought back so many memories. (Not just because of the stories, but for the illustrations as well.) I particularly remember reading The Wise and Foolish Builders
and singing "the wise man builds his house upon the rock . . ." in Sunday School classes. Many of the parables are covered in this series, including The Seeds That Grew and Grew
, The Lost Coin
, and The Prodigal Son
. These books are excellent story-telling resources in taking one parable, or perhaps one Bible story at a time and presenting it in a comprehensive way to children with accompanying art work. To me, they are tried and true books that have stood the test of a little time and are still worth reading today.
When I was looking for these books, I also discovered that Concordia publishes a magazine for parents to use with their small children entitled Happy Times. They are published on a monthly basis and each issue includes a story, some song or finger play ideas, perhaps a poem and a craft activity or a recipe for a food you can make with your child. The Happy Times magazines are short and sweet and my two year old sat through a few stories and enjoyed looking through them. Concordia has graciously offered to give away one free subscription to their magazine. I'm sure you and your children will be able to glean something from this magazine.
Regardless of whether or not you win, I'd strongly encourage you to check out Arch Books if you are unfamiliar with them. They are lots of fun.
So if you would be interested in winning a copy, leave a comment here (U.S. residents only please). We'll announce the winner on January 14.
The winner of The Amazing Flight of Darius Frobisher is #76 Carla Pullum. You should have received an email, but if not, please send your shipping info to us at 5minutesforbooks (at) GMAIL "dot" com.
Carrie comes by her book obsession honestly, having descended from a long line of bibliophiles. She blogs about books regularly at Reading to Know.