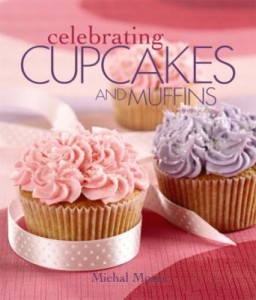 So there I am just walking along at the Book Expo when I spied with my little eye this delicious Celebrating Cupcakes and Muffins
book by Michal Moses. Now, I like cupcakes. The fun thing about being a wedding photographer is that you get to taste a wide variety of cakes and cupcakes at people's weddings. Every bride is different. This year cupcakes seem to be all the rage at weddings and I have been delighted with some of the flavors our brides have chosen. Naturally, I always come home with the intent to make such cupcakes for our family. But how?! These wedding cupcakes are amazing and how on earth am I supposed to create such things in my own home kitchen?!? Now I know!
In all seriousness – Celebrating Cupcakes and Muffins
has been absolutely awesome in providing basic recipes and tips, as well as interesting flavors to check out. Furthermore, don't miss the word "muffin" in the title of this book. (I confess, I fixated on the word 'cupcake' and was oblivious to the recipes for muffins when I first cracked the book.)
My entire family is a huge fan of this recipe book. I've tried at least one recipe a week from this book since returning from the Book Expo. Our hands down favorite recipe for dinner are the pesto muffins. This recipe goes great with pasta dishes and soups. A close second is the recipe for roasted vegetable muffins. The texture of the muffins is absolutely perfect every single time. Fail-proof recipes! What more could you ask for? I've felt like the recipes for these muffins are restaurant quality and my husband heartily concurs.
As for the cupcakes, I haven't let myself get as crazy with those. I've reigned myself in but one morning I made the recipe for peanut butter and jelly cupcakes with my kids. We called up daddy and met him at work to share a special little treat mid-day. That was kind of fun and as odd as those cupcakes might sound to you- they weren't bad at all! My husband's co-worker, who is a huge peanut butter fan, declared them to be quite tasty.
This book is very fun. It has been sitting out on my kitchen counter since my return and I've been browsing through it and making excellent use of it. The men in my family love bread, although I can't say that that's the best thing for me to be eating. I can tell you though that it's hard to eat just one muffin or one cupcake because they are that good.
If you are looking for a basic book about cupcakes and muffins, with easy and delicious recipes – this is an awesome place to start. Thanks goes to Leisure Arts for allowing me to test Celebrating Cupcakes and Muffins
! Eight thumbs up (from this household!)
Carrie enjoys hunting up new recipes to share with her family. It would probably be best if she just read about the recipes, rather than taste testing them all but life is too short to do that! She blogs about books (and not so much about food) over on her book blog, Reading to Know.